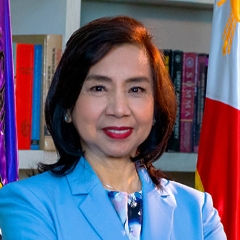 It gives me unparalleled joy and pride to lead the Philippine Women Judges Association (PWJA) as we begin a new decade as "empowered women in the cyber age."  With this new website, we are just a click away from full connectivity to about a thousand (and still growing) of our sisters in robes.  More than our eagerness to be "info tech savvy," it is our collective desire to unite with our counterparts from around the country that provided the impetus for this technological innovation.  I encourage everyone to use this social platform to widen our network of advocates and to strengthen our core of champions in order for us to solidify our identity as the nation's leading voice for gender equality and justice.
      As your President, it is my intention to bring the PWJA to each and every member, especially those who are stationed in the remote areas. This website is one of the many building blocks for the bridges that we must intentionally make in order to close the gap, be it territorial or otherwise, that prevents us from fully supporting each other's initiatives and fostering judicial exchange.  I want to assure you that each one of you is a valued member of the PWJA.  Your part in this association will be respected, and your voice will always be heard.
      I wish to reiterate that, in the relatively limited time that I will be leading the PWJA, I shall focus on two objectives for which our organization came into being, namely: (1) to improve the administration of justice and to study ways and means of bringing about efficient management of the courts; and (2) to initiate and undertake the necessary judicial reforms.  Through this website, we shall improve the dissemination of administrative circulars and other issuances, procedural rules, and relevant information and developments in law and jurisprudence, with the ultimate goal of real-time updating on matters of judicial importance.
      I have directed the PWJA officers to hold regular meetings in the different judicial regions to enable us to interact with our members and assist them with their problems. I find it beneficial for us to develop a regional response to problems of local courts, and empower the judges to take pro-active and innovative measures in facing challenges.
      More than anything, I am deeply concerned with the well-being of our members.  I understand that as women, balancing our roles as judges on one hand, and as wives and mothers on the other hand, is a common struggle that impacts our judicial work.  We shall, therefore, give due consideration to programs geared towards promoting the welfare of our members.
      I believe that much can be achieved by creating a culture of inclusivity and empowerment in judicial reform, which I have started to do as Chairperson of both the Committee on Family Courts and Juvenile Concerns (CFCJC) and the Sub-Committee on Commercial and Cybercrime Courts (SCC), and President of the PWJA. This unique position allows me to pursue an integrated and holistic approach in the skills-based training of judges.  In line with this, I strongly urge you to give importance to these trainings and to maximize your gains therefrom.  It is through said trainings that you will learn the most efficient means for the accomplishment of your judicial tasks.  
      There is much to be done, but I take comfort in the knowledge that you are all committed to stand with me as we strive to make the PWJA a transformational force driven by determined and upright women judges who lead by example thereby creating a strong national consciousness not only for the ideals of justice but also of social equality.
Mabuhay ang PWJA! Mabuhay tayong lahat!
ESTELA M. PERLAS-BERNABE
Senior Associate Justice, Supreme Court of the Philippines
President, Philippine Women Judges Association